Calev Ben-Dor reflects from Jerusalem on a week that has left Israel 'on the edge of the abyss' according to national newspaper Yediot Ahronot.
Saturday night 25th February
My wife and I generally try to put our five and a half year-old daughter to bed by 7.30 pm, although it's rarely that simple. Requests to read Julia Donaldson, Rachel Bright or Judith Kerr means bedtime often gets delayed until after 8. Yet Saturday nights these days pose a particular challenge. As we lie in bed and sing our medley of Hasidic melodies, other sounds enter the bedroom. DE-MO-CRA-TYA, DE-MO-CRA-TYA come the four piercing megaphoned syllables from the President's Residence, less than a hundred metres away. I sing louder, trying to drown out the chants. But it doesn't work. Yariv. Levin. Poh Ze Lo Polin. (Yariv Levin this isn't Poland). Bibi. Sara. Poh Ze Lo Hungaria. (Bibi & Sara, this isn't Hungary). Thankfully, generally exhausted from a busy day of playing, my daughter falls asleep regardless. Once I hear her calm breathing, I leave the room and head around the corner to join the protests.
The Jerusalem demonstration is smaller than Tel Aviv and includes many families with kids. Israeli flags are everywhere. Vuvuzelas recently made an appearance. A popular jingle tweaks the words to the classic children's song 'my hat has 3 corners' to 'my country has three branches of government' (believe me it sounds better in Hebrew). The stage hosts several speakers. Tonight it is Elyakim Rubinstein, a former (religious) Vice President of the Supreme Court, Attorney General, advisor to Menachem Begin and Cabinet Secretary to Yitzchak Shamir. A secular leftist he is not. There is a certain edginess too. One week they played bella ciao, the partisan anthem made famous by Netflix hit Money Heist. People have begun to dress up as the character from the futuristic dystopian novel 'The Handmaids Tale'.
The crowd is quiet as Rubinstein speaks but I can hear another demonstration further down the street. Walking against the crowd, I find a smaller protest against the occupation under the slogan 'Democracy For All'. Further down still, by the police barricades, stands one lone man with a sign saying 'leftists are traitors' – a patriot or idiot depending on one's political persuasion. Some stop to argue with him. Most simply ignore. As the demonstration ends, thousands sing Hatikva.
Sunday 26th February
Netanyahu to Ministers Against Demonstrators: 'I Want to Give you a Fist to Punch Them. You Need to Punch the Lie' More than 200,000 Demonstrators Across Israel (Yediot Ahronot)
'On the Edge of the Abyss' (Yediot Ahronot)
'Senior Security Official to Meet in Jordan with PA Officials in Attempt to Avert Escalation' (Haaretz)
Despite the positive energy outside the President's Residence, I often return feeling despondent. There's a saying used by Israelis that the dogs may bark, but the caravan passes. In this case I fear that the demonstrators are the dogs. We make noise. We raise the temperature to pressure the government. But any coalition with an assured majority can basically pass whatever legislation it wants – even if that changes the rules of the game going forward. President Biden may voice his displeasure; The Bank of Israel Governor may warn of an economic downturn; High tech CEOs may pull money out the country; Former security chiefs may call for compromise; But where there's an executive will there's a legislative way. Netanyahu's comments about punching back at protesters' lies suggests he isn't in the mood to back down.
Good friends came to lunch over the weekend. Somehow (and politics generally stays out of our meals) the issue of the judiciary came up. My friend's wife is a long-time Likud voter and Bibi supporter. She argued the protestors basically hate Netanyahu and are sore losers about the election results, adding that the reforms were simply returning the situation to before Aharon Barak's 'constitutional revolution' of the 1990s. The Gaza Disengagement was mentioned (as it often seems to do these days). A calm meal was suddenly turned on its head in the space of mere minutes.
[This is not the place to review the actual arguments. Fathom has published Amichai Cohen and Suzie Navot of the Israeli Democracy Institute who have argued against the proposed reforms and Russel Shalev of the Kohelet Forum who agrees with them. In the near future we hope to publish Aylana Meisel of the Tikvah Fund, also in defence of the reforms.]
Monday 27th February
'Two Israelis Murdered in Shooting Attack in Huwara; Settlers Riot and Torch City Hall Buildings, Palestinian Man Shot to Death' (Haaretz)
'Dangerous Boiling Point in Samaria' (Israel Hayom)
Yesterday's news of the killing of two Israeli brothers followed by the rioting of Jews in the Palestinian village of Huwara and the death of a Palestinian is difficult to absorb. Both President Herzog and Netanyahu condemned the rioting. But how did we get to a situation in which IDF soldiers need to pull Palestinians out of burning buildings that have been set alight by Jews? One chilling video shows the likely perpetrators praying Maariv (the evening service) having just carried out this brutal act of revenge. What a desecration of God's name.
One could argue that this is simply the inevitable result of an ongoing 55-year occupation. Or perhaps the natural response of Jews to the failure of the Israeli government to protect them against ongoing Palestinian violence. Huwara has been a point of friction for years. But we now have an explosive cocktail of a supremacist minority of settlers, a generation of Palestinians even more willing to carry out attacks, an increasingly ineffective Palestinian Authority, and Neo-Kahanists and pyromaniacs with no strategic thinking within the Israeli government. Somewhere in that mix is the IDF.
Gilead Sher, former Chief of Staff to Ehud Barak tweeted an image of anti-government demonstrators clothed in blue and white flags above a picture of the burning homes in Huwara. The first is entitled 'anarchists', the second 'Zionists.' 'If only we'd have (even sooner) given over border control forces to a Kahanist Minister previously convicted of crimes and the Coordination of the Territories (COGAT) to a Minister previously suspected by the Shin Bet' he wrote sarcastically.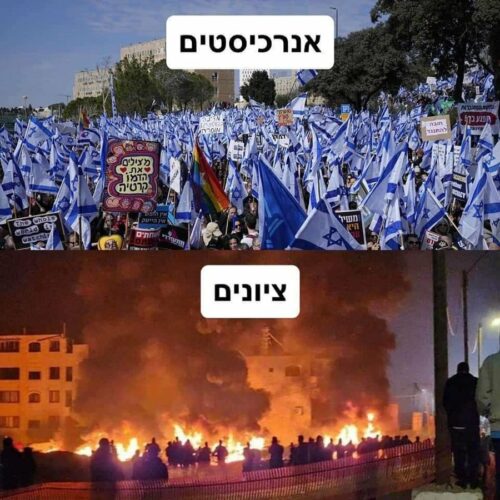 The demonstrators and the government are not just involved in a battle over policy but branding. Arthur Finkelstein, a long-time pollster and Netanyahu political advisor once said that the best way to tell an Israeli's political persuasion is to ask if they are more Jewish or more Israeli. Those who said 'Jewish' were right wing, the 'Israelis' were leftists. Netanyahu now tries to pull this same trick with 'Jewish' and 'Democratic', to drive a wedge between these two core identities of citizens. He claims the protestors are left-wing, elitist, secular, and anarchical. Protest organisers and supporters aim to present the movement as non-partisan, patriotic (the flags and national anthem), and politically and religiously inclusive. They reject Netanyahu's dichotomy and insist that Israelis don't have to choose between different identities – Jewish and democratic, right and left, secular and religious. Time will tell whose narrative will be more convincing.
Tuesday 28th February
'Kind, funny' Israeli-US terror victim Elan Ganeles killed during visit for wedding
'Security Establishment Belatedly Realizes West Bank is Catching Fire Under its Nose' (Haaretz)
'Rioters Received Tailwind from Ben Gvir and Smotrich' (Israel Hayom)
More awful news with another deadly shooting attack in the West Bank killing a young American-Israeli citizen. A few years ago, I created a simple rule of thumb. Whatever happens – whether that's 14 Israelis murdered in a month; Hamas rockets on Tel Aviv or Jerusalem; a prisoner exchange where a thousand terrorists are released for one solider… I imagine what the response of right-wingers would be if a non-right wing / non-Netanyahu government had done it. Ben Gvir rode into power promising governance and security. We currently have neither. I wonder how many of his voters have buyer's remorse.
In the afternoon I taught a class of gap-year students about the Israeli-Palestinian conflict in which we discussed what Jewish tradition has to say about peace. There are two main conceptions of the term. One comes from the Hebrew world Shalom whose root is Shalem, completeness. It's a prophetic vision of peace along the lines of Isaiah, wolf and lamb lying down together. Another vision is that of Darkei Shalom, the ways of peace – more prosaic, less utopian actions that Jonathan Sacks referred to as a programme for peace in an unredeemed world. The Israeli peace camp used to believe in the former – Peres' New Middle East and the 1990s thinking that we'd go to Damascus for the weekend to eat Hummus. After numerous failed peace initiatives, the second Intifada, and Hamas' control over Gaza (after Israel withdrew), the peace camp sobered up. David Grossman talked about 'not bad neighbourliness'. Amos Oz referred to clenched teeth compromise. In light of this week's news, even that may currently be beyond us.
Wednesday 1st March
'Protest and Huge Traffic Jams Expected Amid Ongoing Legislation' (Israel Hayom)
'Mandelblit: This is Legislative Abomination, a Regime Coup. The Supreme Court Must Stop It' (Yediot Ahronot)
Israel should 'wipe out' Palestinian town of Huwara, says senior minister Smotrich
It's the Hebrew month of Adar in which one is supposed to increase one's level of happiness. Next week is Purim, one of our most joyous festivals when kids and adults dress up in costumes (in previous years we have drawn inspiration from Frozen, Rapunzel, Peppa Pig, Winnie the Pooh, Calvin and Hobbes and – for aficionados of 1980s television – Dick Dastardly and Mutley from Catch the Pigeon).
Adar also means, amongst other things, that its pajama day in my daughter's kindergarten. She wakes up excited and we manage to make a relatively early exit from home. The neighbourhood streets are pretty empty due to the National Day of Disruption – like Yom Kippur but with the cafes open. Roads near the Prime Minister's Residence are blocked. Buses used alternative routes.
That evening, on our way home from my daughter's gymnastics class, a group of us are asked politely by soldiers where we are going. 'We live near here' or 'to Café Yehoshua' are considered good enough to be let past. 'To demonstrate' would result in being refused. Despite the soldiers' best efforts, a demonstration is happening opposite the Prime Minister's official residence (his private home is a couple of hundred metres away). Further down Azza street the roads are empty of cars. We bring the kids scooters for them to enjoy. My daughter practices cartwheels along the zebra crossings. The atmosphere is a weird mix of carnival and impending doom. The nearby ambulance lets us look inside. When we stop to admire a police motorbike, the policeman offers to take a photo of our two-year-old son sitting on it. It makes his day. (I'm aware others have had different experiences with the Israeli police).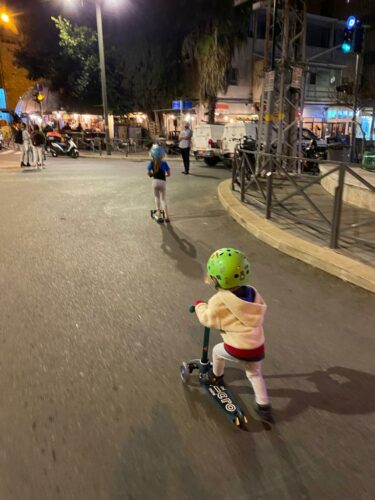 Two Likud Ministers and two members of Gantz's National Unity party issued a public call for compromise. Herzog too has tried to calm tempers. But what makes any agreement harder is that each coalition partner has a different red line. For Levin (Likud) and Simcha Rothman (Religious Zionist party) the priority is gaining a majority on the Judges Selection Committee and requiring unanimity amongst those (governmentally chosen) judges for the court to strike down a law. With those two clauses they can afford to compromise on the override law. The Ultra-Orthodox parties are less bothered by who chooses the judges – they are in any event ambivalent about the courts. What they need is the override in order to ensure a bill will pass exempting their students from the IDF. The opposition sees all these issues as red lines. Under these circumstances it's difficult to imagine what a compromise might look like.
Thursday 2nd March
'Day of Battle' (Yediot Ahronot)
'Demonstrators Laid Siege to Hair Salon, Sara Netanyahu Extricated after Three Hours' (Yediot Ahronot)
'Police Use Stun Grenades and Water Cannons to Disperse Demonstrators; More than 50 Arrested' (Haaretz)
'Gantz to PM: Talk now before we face civil war; Herzog: Country could fall to abyss; In statement to nation, Netanyahu compares Tel Aviv protests to settler rampage; Netanyahu, Lapid accuse each other of stirring up anarchy' (Times of Israel)
'Ex-Shin Bet chief: Security forces must listen to High Court over gov't' (Jerusalem Post)
Only once we returned home did I read about PM Netanyahu 'dramatic announcement' comparing the violence in Huwara to that of the demonstrations, adding that foreign agents are involved in the protests.
Netanyahu is no stranger to rewriting history (or lying) – I still remember his ridiculous suggestion that the Palestinian Arab Mufti had convinced Hitler to gas the Jews in the Holocaust. But he has now adopted a newer narrative, that (a). demonstrations against the Disengagement – the withdrawal from Gaza carried out by a Likud government in which he was a senior minister – were completely peaceful (unlike the current 'anarchists') and (b). that he himself was opposed to Disengagement. It reminds me of something veteran political journalist Amnon Abramovich once quipped: that Netanyahu supported disengagement 'in the Government and in the Knesset but opposed it in corridors and the television studios.' It wasn't by accident that Smotrich called the PM the liar of all liars.
A friend remarked that we are heading towards a nightmare for the PM. He tried to reassure Western allies that, despite giving senior positions to Smotrich and Ben Gvir, he has his hand firmly on the wheel, and that he would ultimately set policy. But what we're seeing now is a car crash. Netanyahu either lacks the will or capacity (or both) to restrain them. Ben Gvir continues to blame anyone he can for the deteriorating security situation. The protestors yesterday claimed correlation between the stun grenades and police violence with his arrival on the scene. Smotrich suggested Huwara should be wiped off the map (today, in a manner as believable as the apologies of Little Britain's Sir Norman Fry, he 'clarified' his statements for those who had 'misunderstood'.)
Netanyahu worked hard for a legacy. But 'Mr. Economy' may be overseeing a collapse of the financial sector. And 'Mr. Security' is unable to halt a wave of terrorism or deal with Jewish lawlessness. The ultra-Orthodox in the coalition are also showing their displeasure.
Yet while this might be a nightmare, it's not Netanyahu's biggest nightmare. That would be losing power, returning to the opposition, and the Jerusalem District Court sentencing him to jail time. For him it's a question of life and liberty. He will likely do whatever it takes to prevent that from occurring, even if it – as I fear it might – create a nightmare for us all.
At times like this, Israelis often quote the song 'I have no other country', written by Ehud Manor and sung by Gali Atari. Ein Lee Eretz Acheret, Atari sings, I have no other country; Gam Im Admati Bo-eret, Even if my land is on fire … I will not be silent even if my country has changed its face.
This week the Holy Land has been on fire. Literal fire in Huwara. Metaphorical fumes are rising in Israeli cities. Many people refuse to keep silent against what they see as the country changing its face. But I can't shake the terrible feeling that we are spiraling out of control, and that no one is slamming on the breaks.
Former (religious) Shin Bet Chief Yoram Cohen said yesterday that in a clash between the decisions of the government and the court, the IDF must listen to the judges. This would be a constitutional crisis (how a country without a constitution experiences a constitutional crisis is beyond me – but we may be about to find out.) Such a scenario should fill us all – opponents and supporters of the government – with dread.
back