Alan Johnson, editor of Fathom and author of our 2019 Report Institutionally Antisemitic Contemporary Left Antisemitism and the Crisis in the British Labour Party says it is right that Corbyn has been suspended but the left must understand the problem is a tradition not a man.  
The Equalities and Human Rights Commission investigation into antisemitism in the Labour Party has found the party responsible for unlawful acts of discrimination and harassment and three breaches of the 2010 Equality Act. And as Caroline Waters, Interim Chair of the Equalities and Human Rights Commission, has said, the problem was the party leadership's 'lack of willingness' to tackle antisemitism.
But what explains that 'lack of willingness'? How did a party dedicated to anti-racism arrive at what Shadow Minister Jonathan Ashworth has described as the most shameful moment in its history?
The answer is: because of a smelly old left-wing idea about Jews that has been embellished by a smelly new left-wing idea about 'Zionists' and Israel. Left-wing antisemitism did not begin in 2015.
Before Corbyn, Karl Marx wrote in 1844 'What is the secular religion of the Jew? Commerce. What is his secular God? Money.'
Before Corbyn, the German socialist leader Ferdinand Lassalle said, 'I do not like Jews at all. I detest them in general.'
Before Corbyn, the anarchist Mikhail Bakunin wrote, 'The whole Jewish world constitutes one exploiting sect, one people of leeches, one single devouring parasite closely and intimately bound together not only across national boundaries but across all divergences of political opinion.'
Before Corbyn, the newspaper of the British Social Democratic Federation editorialised in 1891'Jew moneylenders now control every foreign office in Europe.'
Before Corbyn, the Labour Leader, newspaper of the Independent Labour Party educated British socialists in the same year to believe that, 'Whenever there is trouble in Europe, wherever rumours of war circulate and men's minds are distraught with fear of change and calamity, you may be sure that a hook-nosed Rothschild is at his games somewhere near the region of the disturbance.'
Before Corbyn, the German Communist Party leader Ruth Fischer of the early 1920s, told a demonstration of workers 'Whoever fights Jewish capital is already a class fighter, even if he does not know it. Strike down the Jewish capitalists, hang them from the lamp-posts, crush them!'
Before Corbyn, after 1945 the Communist Parties gorged themselves on antisemitism, murdering large numbers of Jews as 'Zionists', from poets to party leaders, from the massacre of the Jewish Anti-Fascist Committee to the execution of Rudolf Slansky. After 1968 there were communist-led anti-Jewish – now branded 'anti-Zionist' – pogroms in Poland.
Eric Hobsbawm, the Marxist historian (and sharp critic of Israel), issued a warning in 1980 that across huge tracts of the world antisemitism had never gone away, surviving in two major regions in the post-war years – 'under Islam and, unfortunately, in some countries committed to an ideology which rejected racism, notably the Soviet Union'.
Hobsbawm pointed out that in Stalinist Eastern Europe, 'antisemitism was tolerated and sometimes encouraged' after the Holocaust, 'albeit now dressed up as anti-Zionism' in the era of the Jewish state. He predicted that this 'new' form of antisemitism – anti-Semitism 'dressed up' as anti-Zionism in a post-Holocaust world – would grow in influence.
How right he was.
It is largely (but not solely) this new antisemitism, this 'antisemitism dressed up as anti-Zionism', with its roots in those two vicious reactionary movements – Islamism and Stalinism – that has destroyed Labour.
To the smelly old idea about capitalism being 'Jewish' (once called the socialism of fools) a smelly new idea has been bolted on since the creation of the Jewish state in 1948: imperialism is now 'Zionist', wars are 'Zionist', politicians are 'Zionist tools', the media is 'Zionist', 9/11 was 'Zionist', 'global finance is 'Zionist', and the antisemitism smear against the Labour Party was, yes, 'Zionist'.
Antisemitic forms of anti-Zionism have roots in the UK far left going back decades. Before Corbyn's victory in 2015 the UK far left tried in the mid 1980s to ban Jewish Student Societies on campuses because they were 'Zionist'. Sunderland Polytechnic did so. A group Corbyn sponsored ran a piece titled 'Why we support Sunderland Polytechnic' and said the ban was not 'in any way antisemitic'.
Move on a few decades and look at this cartoon. It circulated on the radical left and is a kind of summa of how the old socialism of fools has been blended with the new anti-imperialism of idiots and has then gone viral on social media. And you can be sure that those who created it and circulated it thought it 'in no way antisemitic'.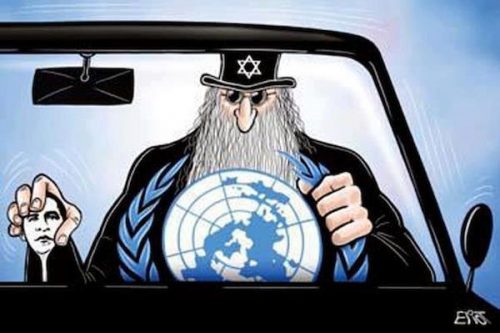 The left needs to learn that antisemitism is the most protean and changeable of hatreds and it has shape-shifted yet again. Yes, Labour was poisoned in part by the flourishing of 'classic' anti-Jewish stereotypes and slurs in the party, as my 2019 report recorded. (There were even a few 'Hitler was right' types, believe it or not.) But the heart of the problem was 'anti-Zionism' of such an obsessive, conspiracist and demonising kind that it long ago left the terrain of 'legitimate criticism of Israeli policy' and merged itself with an older set of classical antisemitic tropes, images and assumptions to create antisemitic anti-Zionism.
There are legitimate criticisms to be made of Israel, as there are of every nation-state. Ringing up a Jewish Labour MP and calling her a 'Zionist C***' is not one of them. Nor is tweeting that Israel creating ISIS.
In short, that which the demonised Jew once was in older forms of antisemitism, demonised Israel now is in contemporary antisemitic anti-Zionism: all-controlling, the hidden hand, tricksy, always acting in bad faith, the obstacle to a better, purer, more spiritual world, uniquely malevolent, full of blood lust, uniquely deserving of punishment, and so on.'
Yes, disciplinary action should now follow. It is right that Corbyn has been suspended. But it will be even more important to wage a battle of ideas against antisemitic anti-Zionism. But the useful left-wing idiots who protected Corbyn for four years are legion. They infest a bio-degraded UK left and UK academia. So here is an idea: the party should turn for help to those of us on the left who have spent a good part of our professional and political lives understanding, fighting and defeating left-wing antisemitism. We just might know something.
back