British-Israeli Paul Gross reflects on his experience of two days of annual celebration and mourning in Israel amidst 'the deep schism in Israeli society'.
Tuesday, 25 April 2023 (Yom Hazikaron)
This was always going to be a busy day. On Yom Hazikaron, Israel's Memorial Day for fallen soldiers, the schools and kindergartens finish early, and I was scheduled to pick up my young twins from kindergarten at midday. And before I could even start whatever work I could squeeze in at the office that morning, I was due to give a talk about the significance of the day to a group of Diaspora Jews studying at a Yeshiva in downtown Jerusalem.
It was a talk I'd given before. First a little bit of history, explaining that after two years of celebrating Independence Day – Yom Haatzmaut – and grieving for the thousands of soldiers killed in the War of Independence, on the same day, the decision was made in 1951 to have a separate Memorial Day, starting 24 hours before. This way both the national mourning, and the celebration of the miracle of Jewish sovereignty after 2000 years, could receive the full attention they were due. Then I discussed just what makes Memorial Day in Israel so different from its parallels in other countries: the fact that most Israelis serve and will be sending their children to serve; and Israel's de facto state of war with other countries and terror groups in the region, with the grim guarantee that names will be added to the list of the fallen every year.
This year, I had to reckon with something else as well, the elephant in the room: how will these days of memorial and celebrating independence, usually so unifying, be affected by the extraordinary level of division in Israeli society today? Or, as a friend put it to me: 'What if I just don't feel like we have much to celebrate on Yom Haatzmaut this year?'
It's a question I'd thought about a lot. I've been arguing for a while that advocates for Israel abroad should not be diverted from their mission by this Israeli government. They should make a distinction between the Zionist idea – to be defended – and this current government – to be treated as a tragic, and hopefully temporary, departure from the founding liberal democratic values of the state. That approach was also what I'd been clinging to with Yom Ha'atzmaut in mind.
But was it going to speak to these students? I wasn't sure, and decided to buttress my point with something that had inspired me from a webinar I'd had the pleasure of hosting about 10 days earlier.
It was a webinar for the newish 'Olim for Democracy' grassroots movement that I've taken a leading role in. I was interviewing Professor Suzie Navot, Vice-President of the Israel Democracy Institute (and a contributor to the pages of Fathom). She was describing a visit to her organisation by scholars of democracy from Poland and Hungary, who'd been taken to witness the mass demonstrations taking place throughout Israel, every Saturday night for the past four months. She said that they had tears in their eyes as they told their Israeli hosts how this had simply not happened in their countries. There had been protests from different sectors when those sectors felt their specific interests were under threat, but not this kind of week-on-week, nationwide, pro-democracy protest movement, with hundreds of thousands of people waving the national flag and huge replicas of the Declaration of Independence appearing everywhere. 'Israel is different', they had said.
This, I told the students, was another way to think about Yom Ha'atzmaut. Celebrate the opportunity emerging from this crisis: the revelation of a deep and wide commitment to a profoundly patriotic, liberal democratic Zionism.
***
I left the yeshiva and got back to work just in time for the 11 o'clock siren, the second of Yom Hazikaron (the first occurs at 8 pm the day before, signaling the beginning of the 24-hour period of memorial). After the two minutes of silence, there was a short ceremony with colleagues reading stories of particular soldiers who had died – and with songs. Songs form a vital part of the Yom Hazikaron experience. The playlist is quite specific, and radio stations adhere to it scrupulously. It consists of songs written and recorded from 1949 up until the present day, all with a theme relating to either specific wars – or even certain battles within those wars – or else broader references to peace and war, grief and loss.
As usual, there were songs which brought me to tears. One I found particularly poignant was Winter '73, performed by an IDF troupe in 1994, when the peace process was very much alive and kicking. The song is a reminder – and a rebuke of sorts – to the previous generation, who had promised to make peace after the horrors of the Yom Kippur War:
When we were born the country was wounded and sad,
You looked at us, you hugged us, you tried to find comfort
When we were born the elders blessed us with tears in their eyes
They said: 'We hope these children will not have to go to the army'
…
We have grown up now in the army, with a gun, a helmet on our head
…
And so we will not pressure you, we will not demand, we will not threaten;
When we were small you said, Promises must be kept.
If what you need is strength, we will give;
We just wanted to whisper:
We are the children of that Winter, 1973 …
You promised a dove, an olive branch,
 You promised peace at home…
***
That evening I went with my wife and three young children to the ceremony at our synagogue, where the seriousness and sobriety of Yom Hazikaron transitions into the celebration of Yom Ha'atzmaut. It can be jarring, but also quite wonderful. This year, I saw my 10-year old daughter perform with her gymnastics class on the promenade near my home in Jerusalem, from where you can see the Temple Mount, with the golden Dome of the Rock very clearly. With all the tumult of the past few months, and my own very real fears for the future of democracy in this country, this was one of those moments when moving to Israel seemed the most obvious and meaningful decision of my life: watching my first-born child perform in celebration of Israel's Independence, with the Old City of Jerusalem as the backdrop, I had tears in my eyes once again.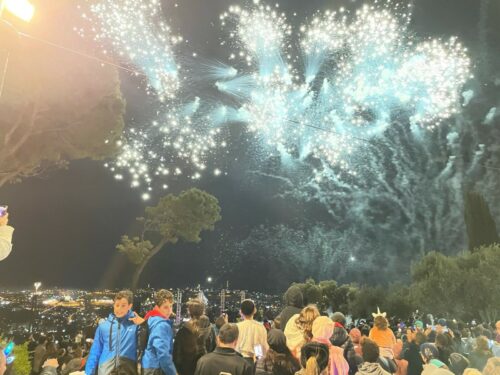 A firework display over the promenade near the writer's home in Jerusalem
Wednesday, 26 April 2023 (Yom Ha'atzmaut)
The day of Yom Ha'atzmaut itself is dominated by nationwide barbecues. Most Israelis can be found in public parks, or in their gardens with family and friends, grilling meat, having a drink, and enjoying a rare Israeli public holiday that is not also a religious holiday (with obligations for the religiously observant.)
We did a bit of BBQ-hopping. As has become traditional, we had our first barbecue with my wife's extended family. To my relief (and I'm sure not just mine), politics was more-or-less forgotten for the day. As with many families, different members find themselves on opposite sides of the deep schism in Israeli society right now.
Later, we attended a second barbecue at friends. There, politics was very much discussed. I debated with two like-minded friends how to address the professed grievances of the other side. One emphasised the importance of 'understanding where they're coming from'; of empathising with their feeling that the Supreme Court represents a left-leaning, secular, Ashkenazi elite that dismisses and derides their concerns. The other, more combative friend argued that this empathy can only go so far, and when our opponents appear to be swallowing whole lies such as 'judges are just appointed by other judges'; 'Supreme Court Justices are all left-wingers'; or 'the reforms will make Israel more like other democracies', we absolutely should be telling them they're wrong.
My own view was that both things are true: there are legitimate grievances, and those grievances have been blown out of all proportion by a cynical, populist political leadership, who pretend that nothing has changed or improved in the past 20 years. For example, it was the case that the judicial appointments committee could nominate judges without any support from elected politicians; if the three sitting Supreme Court Justices and two Bar Association representatives agreed on a candidate, they could always outvote the two cabinet ministers and two Knesset members. But this was resolved in 2009 by the simple change of requiring a super-majority of seven out the nine. So today, successful candidates for the highest court in the land need the support of both politicians and legal professionals. And this reform is doing exactly what was intended. Right-wing governments can appoint right-wing judges. In the current Supreme Court (notwithstanding the rhetoric from the government and its supporters) seven of the 15 Justices are conservative.
***
Postscript
That evening, having spent 48 hours feeling as emotionally attached to Israel as anytime in the year, I went to a Jerusalem bar to connect to an important piece of my British identity. My beloved Arsenal were playing Manchester City in a must-win game, to keep our diminishing hopes of a Premier League title alive. We lost 4-1 in a horribly one-sided affair, but I did have the pleasure of seeing the pub decked out in Arsenal's colours, as Israel's Arsenal Supporters Club (made up of mostly Israeli-born fans, not ex-pats like me) took over the place. (There are Supporters Clubs here for other English teams too. There's even a Barnet FC Supporters Club. His name's Simon.)
As I watched my team's defence fall to pieces like the burnt-to-a crisp banger I'd tried to salvage from the barbecue earlier that day, I found solace in the familiar anti-Tottenham chants raucously sung around me, with heavy Israeli accents.
It was as appropriate a way as any to conclude this British-Israeli's emotional couple of days.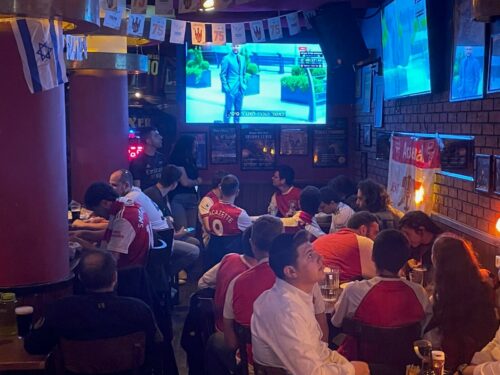 back