Fathom deputy editor Calev Ben Dor reflects on a tumultuous few days in Israel and tries to make sense of 'a Prime Minister we've never seen before'.
Saturday night 25 March
During the twelfth week of protests, I ran into a politically engaged but self-defined lazy friend outside the President's Residence who had come for the first time. He said Netanyahu's speech on Thursday night promising that legislation would continue, had (finally) brought him off his couch.
There is a growing feeling that Netanyahu no longer has his hands on the wheel, as he promised the Americans when appointing a slew of pyromaniacs to key positions. Last week, Bezalel Smotrich – of 'erase Huwara' infamy – stood in front of a map of Mandatory Palestine (today's Israel, West Bank, Gaza, and Jordan), and reiterated his position that the Palestinian people are a fiction. Transport Minister Miri – 'why set up a public broadcasting service if we can't control it' – Regev, told a crowd she had just returned from Dubai but didn't like it. While Israeli, Egyptian, Jordanian and US officials strategized how to keep the month of Ramadan quiet, the Knesset passed a law reversing the disengagement from the northern West Bank. As the Israeli ambassador was called for a dressing down in DC, Religious Zionist MK Orit Struck expressed her wish that one day Israelis would return to Gaza (perhaps she'd like to volunteer to be first?).
As Ramadan began, Israel was being forced to put out fires with its Jordanian, Emirati and American allies.
I also saw a former work colleague who spends a lot of time in reserve duty. 'Everyone is discussing the situation' he said. On the one hand, there is a feeling that the government is changing the rules of the game with its judicial plans. On the other, the enemy hasn't simply disappeared. 'There are hundreds of Hezbollah soldiers close to the border just waiting for a command to cross it' he reflected. As the crowd dissipated, I saw news that Defence Minister (and Likud MK) Yoav Gallant had called for the legislation to be delayed due to significant security fears. Erel Segal of Channel 14 tweeted that Gallant waited until Netanyahu was abroad and then stabbed Netanyahu in the back.
Sunday 26 March
Over the weekend I finished 'Broken Attention' a book by public intellectual Micah Goodman about our overuse of smartphones and ensuing lack of concentration. Inspired, I decided to turn my phone off for an hour or two in the afternoon once the kids were at home. It was thus only once they were asleep that I learned that Gallant had been fired by Netanyahu. To paraphrase Lloyd Bridges who played airport tower controller Steven McCroskey in the film Airplane, it looks like I picked the wrong week to stop checking my phone constantly.
There was something about the firing of a senior Minister who continued to believe in the need for reform but urged delay due to clear and present security dangers that changed the shape of the protest. It was already late, but people spontaneously went out to demonstrate. A political consultant friend of mine had joked back in December to 'wake me up when we head to the streets'. Sunday evening saw him blocking the Ayalon highway with tens of thousands of others. In Jerusalem the police barricades near Netanyahu's house were broken. At midnight, I headed out in my pajamas to Azza street near the PM's house. Simcha Rothman, chair of the Knesset's Constitution, Law and Justice Committee tweeted that everything was ready to go ahead in the morning. But something had changed.
What made Gallant's firing the straw that broke the camel's back for many? Why did it move the needle? In a speech in June 1963, David Ben Gurion said that every Jewish mother should know that she has put her son under the care of commanders who are worthy. Indeed, the state asks us to send our children (well, not all our children, but that's for a different time) to the army, and we expect them to be looked after by responsible adults. We expect they won't unnecessarily be put in harm's way, or be used as pawns in the interests of politicians. But if a (right-wing) Defence Minister can be fired for warning about (legitimate) security interests on the eve of Ramadan, then anything can happen. The contract has been altered. For those who thought the national interest took precedence over Netanyahu's personal interests it was a rude awakening.
Monday 27 March
Late last night, Israel's Histadrut Trade Union Federation announced a general strike in coordination with the main businesses, to stop what they termed the judicial revolution. Ben Gurion was temporarily closed. University heads decided that study would stop indefinitely. Netanyahu's lawyer warned that if the legislation were to go ahead, he could no longer represent him in his corruption trial.
Another demonstration was called for outside the Knesset at 2pm. Added to the classic calls of 'democratya, democratya' I now hear two other chants (which can be heard on this video). 'If there's no equality (shivyon), we'll block the highway (Ayalon), you're messing with the wrong generation (ha-dor ha-lo nachon).' Another brings me back to my youth movement days – a song based around a Hasidic saying of Rabbi Nachman of Bratslav that the whole wide world is a very narrow bridge, but the main thing to remember is to have no fear at all.
The demonstration ended, as they all do these days, with the singing of Hatikva.
What happened to Netanyahu?
The Prime Minister always had those who loved him and those who loathed him. For his supporters he was Mr. Security, responsible for steering the country (relatively) safely through the troubled waters of the Middle East. A leader (rather than mere politician) in a different league, Netanyahu forged close relationships with global leaders (Trump, Putin, Modi) and shepherded in a paradigm of 'peace for peace' as reflected by the Abraham Accords with the UAE, Bahrain and Morocco. To his detractors Netanyahu was all too often an inciter in chief against his enemies, whipping up the masses with lies to maintain his stranglehold on power, whatever the cost. Whether those be Arabs (going to the polls 'in droves') or the Attorney General and police, or the courts, or the media, or 'leftists', general shorthand for those who disagreed with him, such as former Likud and right-wing MKs Gideon Saar, Avigdor Lieberman, Moshe Yaalon, Naftali Bennett and Ayelet Shaked.
In a review of Netanyahu's recent autobiography, Micah Goodman discussed what he termed Netanyahu's double caution – both diplomatic and military, arguing that it typified his behaviour throughout his political career. Netanyahu, at his core, is deeply conservative. He represents 'a right-wing defined by suspicion, and not a right-wing defined by holiness [of the land].' For Goodman, this position actually expresses 'the widespread intuition of most Israelis – restrained pragmatism when it comes to the Land of Israel, and unrestrained suspicion when it comes to Israel's security.' Netanyahu's ideology, writes Goodman, is the basis for broad agreement, which helps to explain his political longevity.
There are far more critical perspectives. Some like Ben Caspit, whom I interviewed for Fathom in 2017 about his biography of Netanyahu, believe Netanyahu's priority is guided by the feeling that he (and only he) is essential to the security and continued existence of Israel. 'So it's not power for its own sake' Caspit told me, 'rather, it's the deep belief that only he can save Israel. There isn't any specific plan, only his belief that only he is able to manoeuvre the ship to safety at any given moment. The true Bibi', Caspit believes, 'is the one who can remain in power in order to keep the people of Israel safe.'
What (if anything?) has changed? In some ways, Gallant's firing is simply the latest in a long line of actions by Netanyahu that relate to his need to stay in power – perhaps initially to save the nation but subsequently to save his own skin. Five rounds of elections; the coddling of the Ultra-Orthodox during Covid; reneging on his agreement with Gantz to be Prime Minister in rotation; giving Smotrich and Ben Gvir (in fact all his coalition partners) everything they demanded; and pushing forward with a revolutionary plan to completely change the judiciary, because the alternative – despite the security, diplomatic and economic warnings – was the collapse of his coalition, and his potential loss of power. He needs them, because without them he has no coalition. He will face trial from a position of weakness.
Even Israel Hayom, the Adelson family-owned Netanyahu mouthpiece was brimming with criticism after Gallant's firing. The main headline was 'The Price of Speaking the Truth'. Yoav Limor, the security correspondent wrote a piece titled, 'A Shock that Endangers Israel's Security'. Yoaz Hendel a right-wing former Communications Minister (and former advisor to Netanyahu) wrote that 'The Prime Minister has Lost Control of the Country.' Other papers too ran scathing pieces. Nahum Barnea in Yediot Ahronot wrote that Netanyahu is 'Now a Clear, Present and Palpable Danger to State Security'. Anshel Pfeffer, also a biographer of Netanyahu argued in Haaretz that Gallant's firing showed that 'Netanyahu has made it clear to Israel that he is not only prepared to risk a constitutional crisis, but he is willing to take on the entire security establishment just so he can pass a law that allows his coalition to pick the next Supreme Court justices.' This, writes Pfeffer, 'is Netanyahu like he's never been before. Gone is the risk-averse and pragmatic prime minister who even his rivals admitted didn't "play games with national security" … Benjamin Netanyahu at 73 is now the pyromaniac-in-chief of a government of arsonists prepared to set the country alight just so they can bulldoze the hated judiciary and establish their own hegemony.'
Back in 2008, with PM Olmert about to be indicted on corruption charges, then-opposition leader Netanyahu made a prescient comment. Wearing his worried, responsible face, Netanyahu told us citizens that a 'prime minister steeped up to his neck in investigations doesn't have a moral or public mandate to make such fateful decisions regarding the state of Israel. There is a real, not unfounded fear,' Netanyahu continued, 'that he will make decisions based on his own interests of political survivability rather than the national interest.'
Netanyahu was right in 2008. His (and our) tragedy is he didn't listen to his own advice.
Tuesday 28 March
After keeping the nation waiting for over twelve hours (we now know he was negotiating with Ben Gvir over creating a private militia – what could possibly go wrong there?), Netanyahu finally gave a speech at 8.05 pm last night. He decried the 'minority of extremists that are willing to tear our country to shreds … escorting us to civil war and calling for refusal of army service.' He subsequently compared the situation to the story of the Judgement of Solomon, 'both sides claim they love the baby, that they love our country.' Solomon in his wisdom announced that the baby should be cut in two, which led the true mother to cry out and show willingness to compromise. It was this that allowed the King to identify who the true mother was.
It was a curious metaphor for Netanyahu – who rarely misses an opportunity to blame others – to make. Because in the story one of the mothers is not actually the true mother. She may say she cares for the baby, but she is patently lying – she would rather allow it to be cut in half ('let the country burn') than allow anyone else to have it. Who is the true mother in Netanyahu's story – the PM and his ultra-Orthodox, messianic, band of merry men on the one hand? Or the former heads of Mossad and Shin Bet, legal experts, heads of Banks, and of trades unions, high-tech leaders and former Attorney Generals who decried the government's judicial blitz on the other?
It was a particularly audacious claim to make for a Prime Minister who had just fired his defence minister for warning about security threats and calling for a pause in the legislation. NBC News and MSNBC journalist John Heilemann once quipped that that everything Trump says is either projection or confession. It's also an accurate description of Netanyahu.
With the legislation delayed, there is now a growing narrative (and American and British audiences should understand this well) that the will of the people has been undermined by elites, those self-perceived enlightened ones; that the voice of 300 fighter pilots is worth more than the millions who voted for the coalition; that even when the majority win an election, their aspirations are quashed and they are prevented from governing. The cosmopolitan elites (courts, media, big business, top IDF units, the histadrut – take your pick) have disdain and contempt for nationalist and religious voters, who are second class citizens; that what we just saw was Israel's equivalent of Trump's big steal campaign.
Many Israelis do feel frustrated with court rulings – whether that's Charedim and the IDF draft, the fate of settlement homes being built on private Palestinian land, policies for deterring 'infiltrators' (economic migrants and / or refugees from Africa), the IDF's battle against Palestinian terrorism and others. Yet debating the correct balance between the legislative, executive and judiciary isn't helped by soundbites like 'the justices appoint themselves' (one in fact needs seven votes from nine on the Judge Selection Committee which is comprised of three judges and three government representatives), or that 'the Supreme Court is a branch of the Meretz party' (in fact four are religious, three live in the West Bank, two grew up in a ma'abara or development town and one grew up in the former Soviet Union). Netanyahu has been PM for over a decade and has appointed ten judges. Yet the first female Mizrachi justice was appointed by Bennett and Lapid. I genuinely wonder why.
The anti-government demonstrations are first and foremost preventing the judiciary being changed in a way that grants almost complete power to the executive. But it's not just about that. It's about protesting Netanyahu and his increasingly cynical leadership and its facilitation of messianic extremists into key positions of power. It's about how the citizens of Israel share the military and tax paying burden between them. It's about the left and centre taking back patriotism from the nationalist right. It's about what it means to be a Jewish and democratic state and not feeling the need to choose between the two.
The legislation has been postponed, and it's unwise to predict what will happen. Yet there are two images from these last few days that will stay with me. The first is a video from the Jerusalem train station escalators. Passing one another are pro- and anti-government demonstrations, some going up others down. Israelis are engaged and committed, and we've had three months of anti-government protests with very little violence. That is cause for pride.
The other occurred in Sacher park near the Knesset where I passed a quorum of men praying the afternoon service. Some were ultra-Orthodox with black hats and peyot. Others were members of the police or first aid services. At least two were non-kippah wearers on their way to demonstrate. They all stood together in prayer.
To bridge the different groups in Israel – with their perceptions, fears and frustrations – will be difficult and requires responsible, thoughtful, empathetic leadership. It should theoretically be possible to reform on the one hand without sledgehammering on the other, yet I'm unsure the sides will succeed. But the whole wide world is a very narrow bridge. We need to walk along it. And we need to remember to have no fear at all.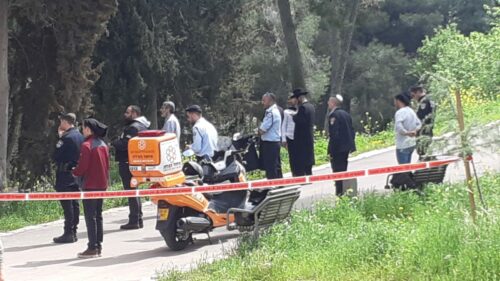 back