Suzan Quitaz is a journalist at the Jerusalem Center for Public Affairs, having worked previously at the Qatari News Channel Alaraby TV, and on a number of documentaries for Al Jazeera International. She wrote in Fathom about the raw footage of the Hamas Pogrom shown to international journalists. Lieutenant Colonel Avichay Adraee is head of the Arab media branch of the IDF Spokesperson's Unit.
On 7 October 2023, Israelis woke up to the worst civilian massacre in the history of the state. Jewish communities alongside the border with Gaza Strip were turned to slaughterhouses. A musical festival held near Kibbutz Reim descended into a bloodbath in where Hamas terrorists butchered hundreds of people in cold blood.
The consequences were devastating. Innocent civilians endured unimaginable suffering, including rape, beheading, and torture. Entire families were burnt alive. At least 1,500 lives were lost and around 245 were violently taken as hostages to Gaza, including Kfir Bibas, 9 months old.
On 26 October, at the IDF headquarters in Tel Aviv, I met up with IDF Lieutenant Colonel Avichay Adraee, head of the Arab media branch of the IDF Spokesperson's Unit, to discuss the 7 October massacre and the IDF's operation 'Swords of Iron', Israel's retaliation for Hamas breaching the ceasefire and declaring war on Israel. He also answered accusations from pro-Hamas supporters and some media outlets that 'Swords of Iron' is an operation aimed at civilians in Gaza.
As soon as the camera starts recording Adraee says 'Within hours, we realised that we were dealing with something different, a horrific situation, in which hundreds and hundreds of civilians were slaughtered'. He says the atrocities against Israeli civilians, mostly children, women and elderly, were broadcast live by the terrorists themselves. Indeed, they were boastful about their killing spree. Adraee adds, 'Yes, they did target some military bases but most of their victims were civilians'.
Adraee mentioned the chilling phone conversation between a Hamas terrorist and his parents in Gaza boasting and bragging about killing 10 Jews. 'I killed a Jewish women, her husband and their children with my own hands' he bragged, telling his family to check his WhatsApp messages to see images of those he slaughtered. 'What matters to me now' Adraee says, 'is to protect my country, protect my homeland, and protect my people. I know this is a war between right and wrong, between light and darkness, and between human begins and sub-humans of ISIS-Hamas. This is what this war is about'.
On the Media and the One-side Narrative
Lieutenant Colonel Adraee, who has been in his position since 2006, is very critical of some media outlets, first and foremost Al Jazeera, for trying to justify Hamas' barbarism. Adraee explained that when the level of brutality and cruelty Hamas inflicted on civilians, including babies, became clear, these channels realised that Hamas had put itself in a corner and so 'they took on the role of Hamas' protector'. To embellish Hamas's image they reported that all Israelis were military personnel. They also overlooked Israeli suffering and casualties and started showing their viewers pictures of destruction and civilian suffering from Gaza around the clock. 'The minute the IDF military response began, we saw a shift in the narrative', he says, 'and the aggressor became the victim'. Adraee adds that many media outlets did not report that 'Many Gazans worked on those very Kibbutzim [that were attacked];that Israel used to supply Gaza with water, electricity, food, medicine and work, whereas Hamas the Hamas governing body used to spend money on military equipment, rockets, and building underground tunnels and other terrorist activities'.
The Old Israel is Gone and a New Reality has Arisen
To the accusation from the enraged Arab Street and the Muslim diaspora that Operation 'Swords of Iron' is targeting civilians and civilian infrastructure, Adraee replies 'Firstly, Hamas and the infrastructure are two sides of the same coin. Hamas uses all Gaza's infrastructure to its own benefits and purposes. Hamas has built a city of tunnels beneath the ground. Where is this city? It's under hospitals, towers, schools and residential buildings. Where does Hamas put its headquarters? Inside towers and residential buildings. There are houses where the first floor is used to fire rockets and the higher floor is used to shelter civilians'.
The Hamas leadership took the decision to execute the atrocities on October 7 yet now their leaders are in hiding. Ismail Haniyeh, Yehiya Sinwar, Mohammed Deif, Khaled Meshal and Marwan Issa, are all in fortified hidey-holes while 'leaving the Gazan people behind' says Adraee. The past few years have seen Gazans protest against Hamas rule and as Gazans see their leaders hiding underground while leaving them above the ground 'I am sure they are asking questions: why do Hamas protect themselves but not us?' 'But will they hold their leadership accountable? That I can't answer. It will take courage to do so' says Adraee.
'The IDF war is not against the people of Gaza. Our target is Hamas-ISIS. The IDF takes many measures to prevent civilian casualties. We warn civilians in advance of a possible IDF attack' he says. He goes on: 'We at the IDF have been receiving criticism from some Israelis about our warning to Gazans to evacuate to designated safe areas to protect themselves. Some ask us "Did the terrorists of Hamas-ISIS warn the kibbutzim before carrying out their massacres on them?" But that is the difference between us and them. Yes, there are civilians being killed in Gaza, and this is a tragedy. Israel does not want to fight the people in Gaza'.
Adraee points out that from the beginning of 'Swords of Iron' the IDF told Gazans to stay away from any facility/target known to belong to Hamas, as it will be hit. '60 per cent of the rockets Hamas fire towards Israel, are launched from the heart of Gaza City. Even with the situation with the Baptist hospital 'Hamas knew from the first moment it was a Palestinian rocket. Why did only an Al Jazeera camera get in there? Hamas took control of the area and the Hamas version of events played out on Al Jazeera'.
Adraee accepted the criticism that Hamas terrorism is not new and the IDF should have dealt with Hamas years ago. When asked 'why did the IDF wait so long?' he did not shy away from answering. 'Yes, this among many other things we will need to address after the war ends'. He tried to explain that Israel had been trying to bring some sort of calmness on its border with Gaza Strip by cooperating with both military and civilian efforts; by granting more than 20,000 Gazans work permits to work inside Israel, by lifting some of the export restrictions on items entering Gaza. 'We were taking some unprecedented steps, talking about Gaza residents accessing Israel's Ramon Airport to go abroad, expanding the reconstruction projects, and so on'. Hamas appeared to be interested in these steps. But Hamas was planning 7 October years in advance. 'They were training for it, preparing their plan. It's clear that Hamas lied to everyone: to the world, to the Arab world, to Israel and, of course, to its people'. 'When Hamas chose darkness, war and destruction it pushed into the abyss all those attempts at improving the lives of Gazans. It threw away years of work between companies in Gaza and Israel who were trying to ease the economic burden in Gaza.'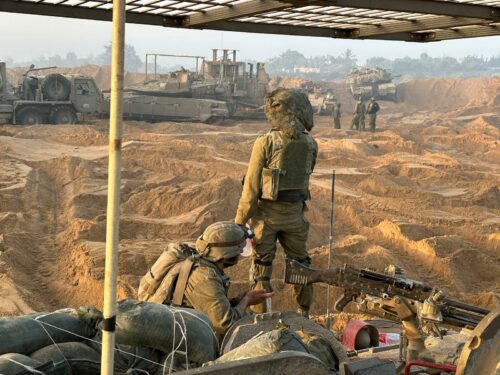 Photo Credit: The IDF Spokesperson Unit
Operation 'Swords of Iron' and the Ramifications of a Prolonged War
I ask the difference between this war and previous altercations between Israel and Hamas. Adraee says the goal of the war is the elimination of Hamas leadership and a total dismantling of their military power and abiity to govern Gaza' Adraee adds that the IDF is fully aware it will take some to time to achieve, but insisted the army's morale and determination is high.
Adraee acknowledges that a prolonged war will mean more suffering, not only in Gaza but in Israel too. But he repeats again that the world needs to understand that 'Israel did not start this war. This war was imposed on us. Hamas committed the massacres against Israeli civilians and Hamas bears the responsibility.
I ask if he fears a prolonged war will have regional ramifications, for example with Turkey. Adraee replies that the IDF tries to speak directly to all-world media outlets including Turkish media by briefing them on what's really going and have extended an invite for international media to come and see with their own eyes the atrocities Hamas committed. Adraee explains that when Turkish media try to portray Hamas as a liberation movement, IDF media division try to debunk that by showing what Hamas is really about.
On Iran and its Proxies
7 October should be a wake-up call for the whole world including the Arab world, says Adraee. 'The ISIS-ization of Hamas is threat not only to Israel but us all'. He continues: 'it is very clear that in every area where there is destruction and ruin you will find the Iranian fingerprints and specifically those of the Iranian Quds Force. Iran has provided Hamas with weapons, funds and training but done nothing to improve the life of ordinary Gazans. Iran plays the same role in Lebanon, in Yemen and in Iraq. In every place we see ruin, we find Iranian fingerprints'.
To my question 'when you going to deal with Iran', Adraee start by saying 'we will deal with Iran when the right day comes. We do not advise any of our enemies to take advantage of the current circumstances to conspire against us or to test our patience and our determination to protect our people'. He goes on to say for now Israel's main focus and efforts is on the enemy, meaning Hamas, but 'at the same time, we are watching all the players in our region. And we said from the first day that we do not advise any of Israel's enemies to take advantage of this reality to target Israel. (…) we are determined to protect ourselves. I say that all players should ask themselves whether they really want to sacrifice their organisation and their countries to stand in solidarity with ISIS?'
No Ceasefire on the Horizon
Adraee says that IDF will expand the military campaign and will intensively strike Hamas targets. However, he declined to give more details. 'Let's the enemy wait. Hamas was the one that initiated this war and now it should wait and see what Israel will do next. Israel will do what it must do at the time it chooses and the enemy now has to wait for Israel's next move. We are defending a just cause, operating a just war and we will win'.
'I don't think there is anyone in the region who wants to see the unfolding tragedy in Gaza. Israel doesn't want that either. But we are fighting a war that was imposed on us and we have the full right to defend ourselves'. Israel is fighting ISIS on the behalf of the whole region. Explaining that Hamas is an integral part of Iran-proxy armies aimed to destabilise regional security and cause mayhem, he said. 'These proxies are working very hard against Arab societies and they call on and demand Arab support and solidarity at the same time their masters in Tehran stabs the Arab world in the back, occupying four Arab capitals' concluded Adraee, referring to Iran's effective control of Beirut via Hezbollah, Baghdad via the Popular Mobilisation Units, Damascus through its alliance with President Bashar Assad and Sanaa in Yemen via the Houthis.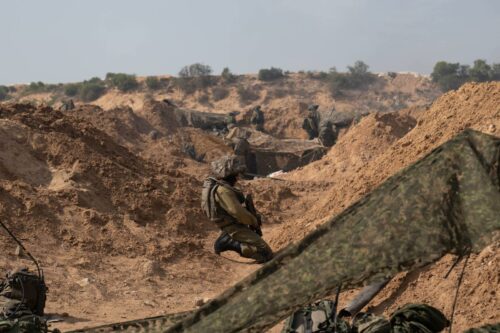 Photo Credit: The IDF Spokesperson Unit
back