Calev Ben-Dor talks to former Yamina supporters to understand their views on the Bennett-Lapid government and voting considerations for the November 2022 elections. He argues that one reason Netanyahu returned to power was the failed attempt to create a right-wing bloc that simultaneously opposed him and maintained its right wing-ness in the eyes of the public when it reached across the political aisle.
Introduction
Several narratives help explain why Benjamin Netanyahu and his bloc emerged victorious from the November 2022 elections. One is primarily technical and organisational. Despite near parity in the number of votes between those supporting Netanyahu and those opposing him,[1] Likud and its allies were more disciplined and better able to get out the vote. Netanyahu was willing to move heaven and earth to keep the Ultra-Orthodox parties (whose belief in getting to heaven excludes learning maths and English on earth) together. He pushed for mergers between the National Union and Jewish Power. It was a feat the anti-Netanyahu parties simply couldn't match. Labor refused to merge its slate with Meretz. The Joint List split into two, and Mansour Abbas' Islamist Raam continued to run solo. Arab turnout actually rose by 7 per cent. But with Likud strongholds increasing by 5 per cent, Ultra-Orthodox by 8 per cent and centre-left strongholds remaining the same, the result was a formality.
Another narrative focuses on the rise of the far-right Religious Zionism party, in particular the telegenic and anti-establishment figure of Itamar Ben Gvir. At its centre lies the traumatic rioting in Jewish-Arab mixed cities in May 2021 that left three Jews dead. This too has data to support it with a notable increase in support for Religious Zionism and the radical Palestinian-nationalist Balad party.[2] As Tamar Hermann Israeli professor of political science at the Open University told me, 'Both Jews and Arabs felt that the police were not able to effectively protect them' and that 'that sense of insecurity brings people to rely on vigilantes…some Jews sought protection from settlers from illegal outposts and Ben Gvir and his crew.' This sense of insecurity was subsequently reflected in their voting choices.
I believe there is an additional narrative, one that relates to the failed attempt to create a right-wing bloc that simultaneously opposed Netanyahu and maintained its right wing-ness in the eyes of the public when it reached across the political aisle. Yamina leader Naftali Bennett wagered that he could remain an uncompromising territorial hawk and judicial reformist while also replacing Netanyahu and finding allies and partners amongst the Arabs and the left. He ultimately failed.
When Bennett became Prime Minister in 2021 it was in many ways seen as a victory for the attempt to unite an often bitterly divided Jewish Israel. But his decision to take a time out from politics after the fall of his coalition in 2022 created a political vacuum on the 'soft' or anti-Netanyahu right-wing. It left the 275,000 people who had voted for Yamina and him in March 2021 politically homeless.
This essay is an attempt to explain this narrative, to evaluate what happened to these voters. What did they think of Bennett's decision to join a unity government (decried by Netanyahu, Smotrich and their acolytes as treacherous) with left-wing and Arab parties? And what were their voting considerations in the November 2022 elections?
There is obviously no simple way to answer these questions. However, by using public data on voting patterns of different cities and communities, as well as interviewing former Yamina voters, it is possible to get a general, if partially anecdotal, idea of their thoughts. These conversations with former Yamina voters included those from the West Bank communities of Dolev, Alon Shvut, Neve Daniel and Efrat; Karmei Katif, a communal settlement in southern Israel, which houses those who were evacuated from Gush Katif in Gaza during the 2005 Disengagement; the religious Kibbutz of Beit Rimon in northern Israel; the cities of Givatayim and Modiin in Central Israel; and the Armon Hantaziv neighbourhood of south Jerusalem. Most of the interviewees were either religious or formerly religious.
The extent to which they are representative is impossible to say. But their views undoubtedly shed light on underlying trends within Israel's right-wing.
'Bennett never recovered from the riots'
Yonatan Weinberg, strategic advisor and social entrepreneur who lives in Kibbutz Bet Rimon in the Galilee explains that the key moment for the Bennett-Lapid government occurred before it was even formed, namely, the May 2021 riots and Bennett's subsequent decision to bring Raam into the coalition. In a move that impressed Bennett, Mansour Abbas had visited a destroyed synagogue and spoken out against violence. Yet, despite Abbas' conciliatory rhetoric, Weinberg felt Bennett's move was too much to swallow for many of his constituents. In a conversation with Fathom he tried to set the scene. 'We were in a situation in which even the fire department was not willing to come because they said it was dangerous' he explains. In Beit Rimon, the car of the head of the regional council had been torched. 'By joining a government with the centre-left and Raam so soon after one of the most significant outbreaks of violence within Israel, Bennett basically lost his voters.'
Bennett's move was indeed revolutionary. The government formed with Lapid had been literally unimaginable before the elections. He ultimately lost members of his own party (Amichai Chikli immediately, later followed by Idit Silman and Nir Orbach). It's thus not surprising that it took some people time to get used to…or that others simply never did. Bennett's subsequent popularity as PM was amongst a different set of voters than his original Yamina ones. 'At the time that the government was about to collapse and Bennett stepped down' says Weinberg, 'he was polling at 8–9 seats…but those who embraced him were from the centre-left who appreciated him getting Israel out of its cycles of elections, but weren't the same people who had originally voted for him. Bennett moved towards the centre of the political map, but he did so without bringing his supporters with him. There were 1200 religious Zionist families in Lod who he was supposed to represent but he never came to visit them during the riots. He lost his connection with the grassroots support.'
'Mixed feelings'
Netanyahu consistently charged Bennett with stealing right-wing votes and giving them to the left. But what did Bennett's original grassroots supporters think? Geula Twersky of Neve Daniel in Gush Etzion praised Bennett and Shaked. 'I honestly believe that they were not pulling the wool over our eyes, and did what needed to be done' she says in a conversation with Fathom. 'The fact they went together for the left, and as difficult as it was to also include the Arab parties – there was tremendous value in trying to be as broad as possible and I don't think they gave up on their principles in doing that.' She is extremely critical of Netanyahu who 'brought the government down over crucial right-wing legislation, which is telling as to his own agenda.'
Other voters were more ambivalent about the unity government. 'On the one hand' says Jerusalem resident Ariel Shomron, who grew up in Gush Katif in Gaza and then in Karmei Katif, 'I really believed in the concept of national unity. But I also felt it was overly focused on getting Netanyahu out and boycotting him. I like the idea of Bennett as Prime Minister but not the way it ultimately happened.' Shomron adds that 'a lot of my friends who voted for Yamina, the path represented by Bennett and Shaked, saw their decision as a failure. Sitting with Meretz and Raam was difficult to swallow. Perhaps it was all too fast.'
Nitzan Aviv (not her real name) from the settlement of Dolev initially supported the government, feeling that, given the situation, it was the best option. 'The government did things I thought were important' she says. 'It passed the budget and advanced all sorts of necessary steps.' Yet as time went on, Aviv became less supportive, especially due to measures taken by Defence Minister Gantz who 'invited Abu Mazen into his house'. After the government's collapse, things deteriorated further, with Lapid's two state solution UN speech and the maritime gas deal with Lebanon.
Simon Levy of Modiin admits to being torn. 'Anyone who voted Yamina realistically realised there would need to be compromises' he says before listing the positive components of the coalition. 'It was good that there was no Bibi in the coalition, he was bringing political discourse down to a new low. And almost as important there were no Ultra-Orthodox parties in the government – their behavior is detrimental to the wider Charedi society. The reforms aimed at stopping the Rabbinate's monopoly were also decades overdue.' For Levy, the government improved the level of political discourse as well as 'strengthening of being a mensch which is something that has been forgotten, and not turning everyone who disagrees into an enemy was a breath of fresh air.' Yet, similar to the others, Levy feels it was all a bit too much for many voters. 'A big issue for many Yamina voters was that coalition was wider than they would have wanted – it gave them this feeling of "theoretical corruption" of what they felt on their values. People felt uncomfortable that Bennett included people [the Islamic movement] who – rightly or wrongly – were seen as being supporters of terrorism.'
This wasn't just a perception but had practical consequences. Weinberg recounts a meeting with Minister of Public Security, Omer Bar Lev, who admitted that he knew much of the violence the country experienced wasn't solely criminal (but rather nationalistic) but 'felt that he couldn't say this out loud.' After the meeting Weinberg realised that 'we had a government which, in order to survive politically, can only deal with "technical" aspects of crime and violence but is unable to discuss Palestinian nationalism because of the composition of the coalition and because it relied on Raam.' Alongside the perception that security was absent came a feeling that Jewish identity was also being eroded, 'whether by Labour leader Merav Michaeli talking about public transportation on Shabbat, or by Meretz leader Nitzan Horowitz trying to make the Health Ministry an extension of pro LGBT rights and surrogacy for gay couples' says Weinberg.
Another perception was that Bennett had changed. 'To hear Bennett, a former Yesha spokesperson say the phrase West Bank [rather than Judea and Samaria] shocked me' admits Shomron. 'It's a left-wing concept.' That Bennett (mis)statement (which I admit to not thinking was a big deal when it happened) was brought up in three different conversations with Fathom. To many, even if it didn't represent a change of policy, it symbolised something. 'Most people are not experts in the details of the government's policies' says Adi Arbel, the director of The Civil Society Forum. 'They are focused on the symbols – of Nitzan Horowitz and Yair Golan of Meretz and Merav Michaeli of Labour. It doesn't really matter what they do.'
Arbel believes that ultimately Yamina voters were disturbed by three main issues. One was Lapid mentioning the two-state solution at the UN; another revolved around building in Area C of the West Bank, in which he said 'Gantz practically promoted a Palestinian state.' The third was the issue of 'Israeli Arabs and Mansour Abbas, and the fact that components of the Muslim Brotherhood became the gatekeepers of the government, which led to the worry about where the budgetary money would end up.'
'Not a single party represents me'
Bennett's decision to take a political timeout left a political vacuum for right wing former Yamina voters, especially those who opposed Netanyahu's return. At the core of the choice was Likud (which meant Netanyahu as PM), Religious Zionism (led by Smotrich and the neo-Kahanist Ben Gvir) and Ayelet Shaked's Jewish Home (which was predicted to fall under the threshold).
In many conversations, the same dilemma appeared. Aviv related how her family of four living in Dolev had voted Yamina in the March 2021 elections but were unsure about the November vote. Her father felt cheated by Bennett – that he had taken his right-wing vote and given it to 'the left'. This time, he voted Smotrich. Aviv's mother and sister voted for Ayelet Shaked's Jewish Home party. 'I wasn't particularly excited by any of them' Aviv laments. Ultimately, 'I didn't want Lapid as Prime Minister. Shaked made too many U-turns and she wasn't going to pass the threshold. I am right wing and wanted to vote for a right-wing party. And I wasn't willing to vote for Smotrich. The only option remaining was Netanyahu's Likud.' Levy meanwhile describes spending 45 minutes at the polling station deciding who to vote for 'while my children were shouting at me to hurry up. I honestly felt there wasn't a single party that represented me' he laments.
Metanel Bareli of Gvaot in Gush Etzion had a similar dilemma: 'I knew I didn't want to vote for Likud – I didn't want Netanyahu as PM and their behaviour was non-mamlachti (unstatesman like). I didn't want to vote for Smotrich and Ben Gvir, I am angry that they chose a strategy of calling Bennett a traitor. The natural option was Shaked, but I realised she wasn't going to pass the threshold.' Ultimately Bareli and his wife decided that one would cast their vote for Likud and the other for Shaked. 'That was the least-worst scenario' he explains.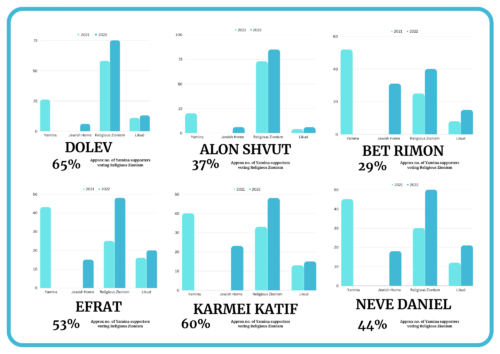 Above is voting data from communities of some of the interviewees. Yamina notably received (disproportionately) high numbers of support in the March 2021 elections. After Bennett left politics, almost all those voters divided between Smotrich and Ben Gvir on the one hand and Shaked on the other, with a small minority choosing Likud and other parties. Preferences differ from community to community (and in other areas some Yamina supporters voted for Gantz or even Lapid). But based on this and other data, it's clear that the overwhleming majority of former Yamina voters moved from the anti-Netanyahu bloc in 2021 to candidates who supported him in 2022.[3]
 'Challenging Netanyahu from the right'
Yet the existence of just one party to the right of Likud made the decision easier for many. 'The main issue for many Bennett and Shaked supporters [in March 2021] was to challenge Netanyahu from the right' suggests Arbel. 'When they had that choice between Bennett and Smotrich, they went with the former, primarily because they were more liberally minded.' Yet the moment Yamina disappeared from the political system (and Shaked was considered too loyal to Bennett by staying in the government) – they prioritised and voted Smotrich.'
Aviv agrees. 'Lots of former Yamina voters voted for Smotrich this time. They didn't particularly believe in Netanyahu and didn't have any other options so they preferred to vote for a party that wasn't their cup of tea – but one that would support right wing parties – than to vote for Likud. Many of these people never believed they would vote for a party with someone like Ben Gvir. But they did, because they didn't want Lapid as PM, disliked Gantz, and Shaked didn't have a chance of passing the threshold.'
For Efrat resident Itzik Feldman, the choice was relatively simple. 'Most people I know in Efrat simply didn't want to waste their vote' he says. Feldman explains that he 'didn't want to vote for a non-religious party (i.e. Likud), and didn't want my vote to get wasted by a party going under the threshold (i.e. Shaked).' His choice was thus clear. 'I went with Smotrich, not because Bennett went together with Arab parties and joined with Lapid, and not because I am a big fan of Ben Gvir.'
A return to tribal and identity politics
In his book about the religious Zionist community, Unravelled, Yair Ettinger writes about 'the generation of privatisation in religious Zionism'. He notes the community is 'getting stronger, diversifying, radicalising and moderating, becoming both more and less sectoral'. While it is no longer bound around one official theme, Ettinger argues that it is neither 'divided into two separate camps but rather scattered across a broad spectrum between conservatism and innovation'. In their own ways, Bennett and Smotrich represent different parts of this community. In his lifestyle and positions, Bennett had tried to bridge different worlds. He was observant but had married a secular woman. He was the former spokesperson of the Yesha Council but lived the suburb of Raanana. His Judaism was Orthodox but open to progressive streams. His political aide was lesbian. He saw the Zionist left as brothers rather than representatives of the decadent, secular, un-Jewish West that Smotrich, the self-defined 'proud homophobe' living in Samaria did. And following the pendulum swinging towards one in March 2021 it has now very much swung towards the other.
'This chapter signifies the end of the story of the "bold and the beautiful" candidates' says Weinberg, referring to talented "outsiders" from the wider world such as Bennett and Shaked who didn't grow up from deep within religious Zionist institutions. That public has instead moved towards what Smotrich built – a party centred around a base focused on the religious Zionist camp and sector, 'one with strict boundaries between what is considered right and wrong, a camp with connections between a political party and money and yeshivot, communities, institutions, schools and youth movements'. For Weinberg, 'Smotrich took a leaf out of what Mapai did in the early years of the state. Just like the Charedim have political parties, and secular Tel-Avivim have a party (Yesh Atid), he sought to build a party for his own community. And people ultimately returned home to this model.' This represents, in Weinberg's words, a 'return to a very well defined tribal-like organisational principle'.
After the most diverse coalition in Israel's history, and Bennett's attempt to break the mould, the public preferred tribal-like politics. In light of this, perhaps these election results weren't revolutionary, as many have claimed, but rather counter-revolutionary.
Saar the 'Leftist'
Coupled with this tribalism is Netanyahu's continued success in tarring his opponents – especially former Chiefs of Staff or Likud rebels – as being leftists. This has been the fate suffered by Benny Gantz, Gabi Asheknazi, Gadi Eisenkot, Moshe Yaalon, Tzipi Livni, Dan Meridor, Gideon Saar and, most ridiculously, Benny Begin. The most interesting case is Saar, the popular Likud MK who left to form the New Hope party before subsequently joining Gantz. In many ways Saar is more 'right wing' than Netanyahu. He is certainly a greater advocate of judicial reform (former Supreme Court Justice Aharon Barak termed Netanyahu one of the great defenders of the Justice System.) Unlike Netanyahu, Saar opposed the Gaza Disengagement, (as veteran commentator Amnon Abramovich quipped, Netanyahu 'supported it in the Government and in the Knesset but opposed it in corridors and the television studios.') Yet right-wingers generally didn't vote for him. 'Even if we don't like Netanyahu' explains Shomron, 'identity wise we are "right", as is Netanyahu. When Saar moved over the lines to oppose Netanyahu and became the darling of the media, many people began to consider him a leftist.'
Bennet and Saar tried to create an impression that one could be both right-wing and anti-Netanyahu. Yet one has now left politics and the other failed to gain traction. Shomron laments the disappearance of what he calls the soft or moderate right. 'The path of Bennett [to leave politics] and Saar [to join with Gantz] put the moderate right in an impossible situation – either to go with Gantz, whom they consider left, or to vote for Smotrich. Many ultimately felt that the latter option was the lesser evil.'
Yet perhaps, as it licks its wounds, the just-not-Bibi camp might consider that it actually aided Netanyahu in his battle. 'When the "left" decided to boycott Netanyahu', Arbel notes, 'they forced the liberal right to choose between its rightness and its liberalness. These elections are the result.'
—
[1]      This is not to suggest that permutations existed in which Lapid could have formed a government (including the Arab parties) that reached 61 seats. It is to suggest that the actual numbers between those wanting Netanyahu in power and those opposing him were broadly similar, (and that another failure of Netanyahu to form a government may have altered the political deck while leaving Lapid as interim Prime Minister). There were ultimately small margins between these two scenarios.
[2]      Comparing election results for March 2021 and November 2022 in these towns is instructive. The most popular three parties in Lod in March 2021 were Likud with 34 per cent of the vote, the Arab Joint List with 9 per cent of the vote and right wing (but anti-Netanyahu) Yisrael Beitenu with 8.5 per cent. Following the riots, Likud remained most popular but with a lower percentage, receiving 28.5 per cent. The Joint List was replaced by the more nationalist and radical Balad with 15.75 per cent. And the radical right wing (and pro Netanyahu) Religious Zionist party came third with 15.5 per cent.
[3]      In Dolev, in March 2021, Religious Zionism party received 58 per cent, Naftali Bennett's Yamina 26 per cent and Likud 11 per cent of the vote. In November 2022 when Yamina no longer existed, but Ayelet Shaked was leading Jewish Home, Smotrich and Ben Gvir brought in 75 per cent (65 per cent of Yamina voters), Jewish Home 6 per cent (23 per cent of Yamina voters) and Likud 13 per cent (a negligible number of Yamina voters).
In Kibbutz Beit Rimon, Yamina received 52 per cent, Religious Zionism 25 per cent and Likud 8 per cent in March 2021. Subsequently Religious Zionism received 40 per cent (29 per cent of Yamina voters), Jewish Home 31 per cent (60 per cent of Yamina voters) and Likud 15 (13 per cent of Yamina voters)
In Efrat, 43 per cent voted Yamina in March 2021, 25 per cent Religious Zionism and 16 per cent Likud. In November 2022, Religious Zionism received 48 per cent (53 per cent of Yamina voters,), Likud 20 per cent (9.3 per cent of Yamina voters), and Jewish Home 15 (35 per cent of Yamina voters).
In Alon Shvut, Yamina received 40 per cent, Religious Zionism 33 per cent and Likud 13 per cent in March 2021. In November 22, Religious Zionism received 48 per cent (37.5 per cent of Yamina voters), Jewish Home 23 per cent (57.5 per cent of Yamina voters( Likud 15 per cent  (5 per cent of Yamina voters).
In Karmei Katif in March 2021, Religious Zionism received 73 per cent, Bennett's Yamina 20 per cent and Likud 4 per cent. In November 2022, Religious Zionism received 85 per cent (60 per cent of Yamina voters), Ayelet Shaked's Bayit Yehudi 6 per cent (30 per cent of the Yamina voters), and Likud 6 per cent (10 per cent of Yamina voters).
In Neve Daniel in March 2021, 30 per cent voted Religious Zionism, 45 per cent voted Yamina, and 12 per cent voted Likud. In November 2022, 50 per cent voted Religious Zionism (44 per cent of Yamina voters), 18 per cent voted Jewish Home (40 per cent of Yamina voters) and 21 per cent voted Likud.
back