Leading Corbynite Labour MP Diane Abbott has had the party whip withdrawn after writing in The Observer that antisemitism is not racism but only a prejudice, akin to that sometimes faced by ginger-haired people. David Hirsh reflects on what this astonishing episode tells us about the hard left and antisemitism in the UK.
Diane Abbott was the first black woman in the UK parliament and has been a courageous pioneer in British public life. She has been regularly subjected to racist and misogynist abuse. But her letter to The Observer was a really bad mistake.
From The Observer, 23 April 2023
Tomiwa Owolade claims that Irish, Jewish and Traveller people all suffer from "racism" ("Racism in Britain is not a black and white issue. It's far more complicated", Comment). They undoubtedly experience prejudice. This is similar to racism and the two words are often used as if they are interchangeable.
It is true that many types of white people with points of difference, such as redheads, can experience this prejudice. But they are not all their lives subject to racism. In pre-civil rights America, Irish people, Jewish people and Travellers were not required to sit at the back of the bus. In apartheid South Africa, these groups were allowed to vote. And at the height of slavery, there were no white-seeming people manacled on the slave ships.
Diane Abbott
House of Commons, London SW1
Abbott has apologised, saying that the letter was a first draft that had been sent by mistake.
Text of Abbott's apology: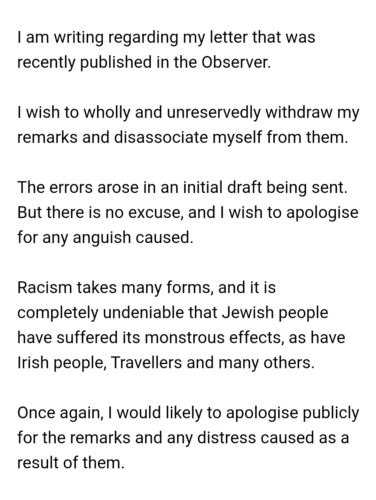 Well fine, we all make mistakes like that. But then…
1. She has been publicly and relentlessly supporting an antisemitic movement in this country for 8 years, led by her colleague Jeremy Corbyn. That rather diminishes people's willingness to give her the benefit of the doubt. The footage of her that we used in our 2016 documentary 'Whitewashed' has been circulating online this week. Responding to Andrew Marr's questioning about antisemitism in her party, she raises her voice and angrily shouts at him, 'It is a smear to say that the Labour Party has a problem with antisemitism.' Labour and left-wing Jews have always stood alongside Diane Abbott in the face of the racism and misogyny that she is subjected to. But the painful truth, which is still quite difficult to really feel in our hearts, is that she did not stand with us when we were being bullied out of the Labour Party by a wave of antisemitism that was underpinned by the leadership that she supported.
Diane Abbott already made it painfully clear what she thought when it came to antisemitism in the Labour Party.

The people now saying "oh, she apologised for that letter, you should forgive her" seem to think this sort of attitude came out of nowhere.pic.twitter.com/Rnvn00a2ln

— Daniel Sugarman (@Daniel_Sugarman) April 23, 2023
2. Is her position really that between the letter and the apology she suddenly remembered the Holocaust? Roma and Sinti, as well as Jews, suffered slavery and apartheid in living memory. And this was not only during the Holocaust. Roma and Sinti, and Jews, had been excluded from public life in Europe for centuries, and subjected to organised violence for centuries. Diane Abbott's explanation did not really explain and her apology did not really get to the heart, even of what she admitted to having done wrong.
Diane Abbott has lots of Charedi Jews in her constituency, and she has had, over the decades, a pretty good relationship with them, and she has supported them against antisemitism. This is to her credit. Perhaps this has made her too ready to associate 'real' antisemitism with prejudice against an easily identifiable Jewish current. Maybe the Labour Party should think about giving Diane Abbott the benefit of the doubt. She has made a terrible mistake drafting this letter, and another terrible mistake was made in sending it off. But surely she has to do something different if she is given a second, actually a twentieth or a fiftieth, chance. Maybe she has to account for her own record, for what she did under Corbyn's leadership.
For the last eight years, probably for the last 40, Diane Abbott has lived in a political world in which antisemitism was an important symbolic issue. It appears that in all that time she never really thought about the specificities of antisemitism and how it relates to anti-black racism.
The Corbyn faction as a whole did not think about it in any serious way. It satisfied itself with the assumption that people who talked about antisemitism were factional enemies running a dishonest campaign to silence criticism of Israel and to smear the Dear Leader. That is to say it satisfied itself with the fantasy that the people on the left who raised the issue of antisemitism were acting as part of a conspiracy to help Israeli apartheid and to harm the left.
This failure to think things through is also bound up with a de facto re-naturalisation of 'race'. Anti-racists said, originally, that 'race' was a social process that endowed particular and inherently insignificant biological differences with huge and unjust social significance. Anti-racism therefore opposed 'race' because it was a racist category. This view is uncomfortable because it seems to imply that the self-empowering aspects of freely embraced identity – of pride – also originate in oppression, and in a history of oppression, and in traditions of response to that oppression. It positions 'Black is beautiful' and 'Black Lives Matter' as responses to a world in which being black is treated as being ugly, and in which black lives are treated as though they don't matter. Recently, some anti-racists have come to think of 'race' as being so deeply embedded in our society that it might as well be treated as a natural rather than a social process; that is to say, 'race' is treated as though it was colour, rather than as though it is an unjust social structure that endows colour with huge social significance.
The history of antisemitism shows us that 'race' is not colour. The Nazis had to work hard to portray Jews, in their huge diversity, as a 'race', but they managed it, at least to their own satisfaction. Half of Israeli Jews today would never pass as 'white' in a racist culture that valued 'whiteness', while the other half would be in danger of being racialised the moment a racist discovered their name or focused in on the curliness of their hair. The racialisation of Jews is also then linked to the racist ideology and history that came later; Jews are cast as the non-white agent that masterminds the wider non-white threat.
Diane Abbott is an intelligent, able and courageous woman; sometimes her enemies have jumped on her mistakes to portray her as otherwise, but unfairly. Perhaps it is not fair, but being a pioneer might thrust responsibility on her shoulders for continuing to pioneer. She needs to understand that her own role in Labour antisemitism has not been a positive one and she now finds herself in a position to do some real good.
back