In a week when it was reported that the BBC ignore 99 per cent of attacks on Israelis but cover 89 per cent of Israel counter terrorist responses, David Collier raises some questions about a recent BBC report on President Biden's visit to Israel. 
On Thursday night, 14 July 2022, Jeremy Bowen reported from Jerusalem on BBC One News at Ten. The segment lasted for four minutes and three seconds. It is 243 seconds in which Jeremy Bowen gave a masterclass in anti-Israel propaganda.
Make no mistake – this type of 'news reporting' is not accidental. Every image – each word, is inserted or removed to deliver a message. In my opinion, the level of distortion we saw on Thursday – delivered on a BBC flagship news programme – can help to spread antisemitism.
Bowen's segment on President Biden's visit to the region was introduced by Huw Edwards. In the lead-in Edwards tells the viewers that Biden and Israeli PM Lapid signed a join declaration 'to stop Iran developing nuclear weapons'.
Bowen begins. He is not interested in the declaration at all. He quickly tells viewers 'it has all been said before',explaining that Israel just 'needed him to say it again' (because obviously Israel is attention seeking and craving of indulgence like that).
With this dismissal Bowen sidesteps the actual news of the visit completely. There is no need to mention the Abraham accords, the growing new alliance in the region, the changing face of geo-politics. Not even potential growing ties between Israel and Saudi Arabia. Bowen doesn't care about that. He just wants to get on with demonising Israel.
To begin, Bowen takes us to the Northern border, where Israel faces Hezbollah – one of the most lethal radical Islamic terror groups on the earth. Hezbollah is only described as 'Iran's strongest ally and client' and viewers are told that Hezbollah is a 'friend of Iran'. In fact – although BBC viewers wouldn't know this – the terror group has not only been proscribed by many western democracies – it is even considered a terror group by the Arab league.
Careful editing then does its work. Bowen talks to an Israeli soldier who is stationed on the border. We are told that 'when Hezbollah appeared they were in Israel's sights' and as he said this we are show three clips. The first was an Israeli soldier clearly aiming his weapon. We are then shown the view through the soldier's scope – and finally we are given the image of two guys being targeted (in civilian clothes).

Israelis pointing guns at a couple of people with binoculars is all we see. No mention of the 150,000 rockets pointed towards Israeli citizens.
Bowen then tells us that 'it took one incident to spark a month of war in 2006':
Indeed it did. On 12 July 2006, Hezbollah launched rockets at Israel military posts and towns – wounding several civilians. At the same time, they also attacked on the ground, killing three soldiers, injuring several and capturing another two. It was such a minor 'incident' that Hezbollah had even given the long-planned operation a name ('truthful promise' – in reference to Hassan Nasrallah's pledge to kidnap Israeli soldiers). In total – in the raid and Israel's immediate attempt to recover the kidnapped soldiers – nine Israeli soldiers lost their lives. Hezbollah refused the offer of an immediate ceasefire in exchange for the kidnapped soldiers – and so the two sides went to war.
One wonders whether if the war had started because Israel had invaded Lebanon, kidnapped people and killed 7 other Lebanese, Bowen would still have belittled the event by describing it as an 'incident' – as if the conflict was started by accident.
Bowen then got to turn to the subject he wanted to address all along, and it had nothing to do with Biden, Saudi, Iran, the Abraham Accords or anything else of immediate import.
Bowen said this:  'What's missing is any attempt to ease the festering Israeli – Palestinian conflict'. As he said this these two images were shown to represent the two populations:

On the one side are orthodox Jews – no doubt plotting to do diabolical stuff to Palestinians on their phone. On the other are 3 Palestinians sitting down on chairs. A complete misrepresentation of the conflict Bowen was referencing. To make sure you understand which side maintains their humanity – the Palestinians even have a cat.
Moving swiftly on, Bowen continues: 'on the other side of the wall that Israel has built to separate Jerusalem from the Palestinians of the west bank.' The only part of that sentence which is true is the fact Israel built something. There are two key ways of looking at the security barrier. The first is the historically factual way. Israel built the wall to protect itself from an endless stream of deadly suicide attacks carried out by terrorists crossing a porous border. The other way is the way that anti-Israel activists distort the truth. They want to make it about 'separation' in order to help spread the Apartheid Lie. To decontextualise as Bowen does is to demonise Israel.
In the clip we are then introduced to the only two civilians in the entire piece (that was meant to be about Iran, Biden and so on) – two Palestinians in Ramallah. A young girl and an elderly man. Both talking about how the President doesn't care about them. It gets worse. Bowen then reinforces the Apartheid smear:
'Along Joe Biden's route into Bethlehem, his next stop, are accusations that Israel is guilty of Apartheid. Denied by the US and Israelis, widely accepted by Palestinians and human rights groups.'
For those that missed it, re-read Bowen's clever use of language. He has created a situation where only the US is standing by Israel against all the human rights groups.
In fact, Israel and the US were not alone in rejecting the blatantly biased Apartheid reports. Canada, the Czech Republic, France, Germany, UK, Austria, Australia, Ireland and the Netherlands are just some of those who turned their backs on it. Even Israeli Arab politicians rejected it. Mansour Abbas, leader of the Muslim Arab Ra'am party, has sat in the Israeli governing coalition for a year and he says 'Israel is not an Apartheid state'. To present the accusation in the manner Bowen did is misleading.
And again – Bowen chose to reinforce his message with not one or two but three separate shots of different 'Apartheid' signs:

To finish the report, Bowen said, 'and he (Biden) will see many portraits of Shireen Abu Akleh, the Palestinian Journalist killed by Israeli troops in May'.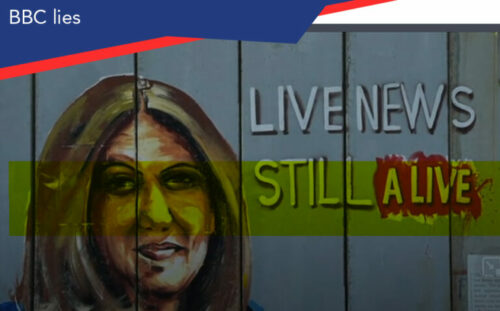 In fact, we do not know who killed Shireen Abu Akleh. It is possible she was killed in crossfire by Palestinian gunmen at the scene. The point is that Jeremy Bowen does not know. Just recently the Guardian was forced to retract on this very issue ('the matter remains in dispute' it conceded). A retraction would be in order in this case too.
back