'The world would be soooo much better without jews man.' This post from a social media account appears in the new September 20019 100-page report Behind the Mask: The Antisemitic Nature of BDS Exposed. Published online and in print by the Israeli Ministry of Strategic Affairs and Public Diplomacy, the report includes, among many others, a page of social media screen shots by members of the BDS-allied and fiercely anti-Zionist organisation Students for Justice in Palestine. SJP was founded by Berkeley lecturer Hatem Bazian, who is also represented in the report by his own anti-Zionist posts on social media.
Here is the sequence of posts in which the one above appears, concluding with two bald commands:
'The world would be soooo much better without jews man.'
'Lol let's stuff some Jews in the oven.'
 'Whats the difference between a Jew and a pizza? The pizza leaves the oven.'
 'Set Fire to the jews.'
'kill ur local Zionist.'[sic]
The report's use of screen shots adds authenticity to its claims. Below is one from Ali Abunimah, founder of the anti-Zionist online publication The Electronic Intifada. As the report points out, 'Abunimah accuses Israel of poisoning the Palestinians' water supply, an accusation that dates back to the antisemitic blood libel of the Middle Ages in which Jews were accused of poisoning the wells of Europe and were held responsible for the Black Plague: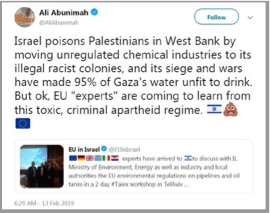 A complete collection of social media attacks on Jews and Israel would overwhelm any report, even if it were limited to those by college students and faculty, but Behind the Mask does an effective job of gathering representative examples. Rather than document the many hundreds of anti-Zionist and antisemitic books, essays, and op-eds by BDS faculty and public leaders, the report concentrates instead on the mass dissemination of tweets and cartoons and posters that are circulated and recirculated to reach much larger audiences. A few have been widely discussed, like the April 2019 cartoon distributed by the New York Times that caricatures Israeli prime minister Benjamin Netanyahu as a dog on a leash held by Donald Trump — a cartoon for which the newspaper's editorial board subsequently apologised.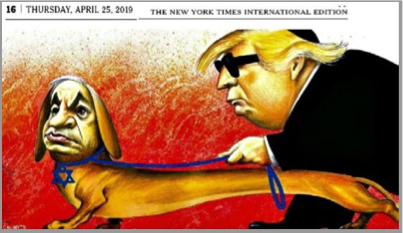 Others are less familiar, their hate messages having had mass distribution among more predictably sympathetic audiences. The power of this report comes from gathering numerous examples in one place and reproducing many in colour. The following example 'created by Ahmad Ashraf Ghareeb shows a Jew with a hooked nose and side locks in traditional Hasidic garb, standing above a dead children and skulls, holding a pitchfork dripping with blood'. The stone or cement cemetery-style block crushing the children is labelled '1948' to symbolise the founding of Israel and is adorned with two stars to David. It won a 2010 cash prize in an illustration contest sponsored by BADIL, an organisation that endorses the BDS movement: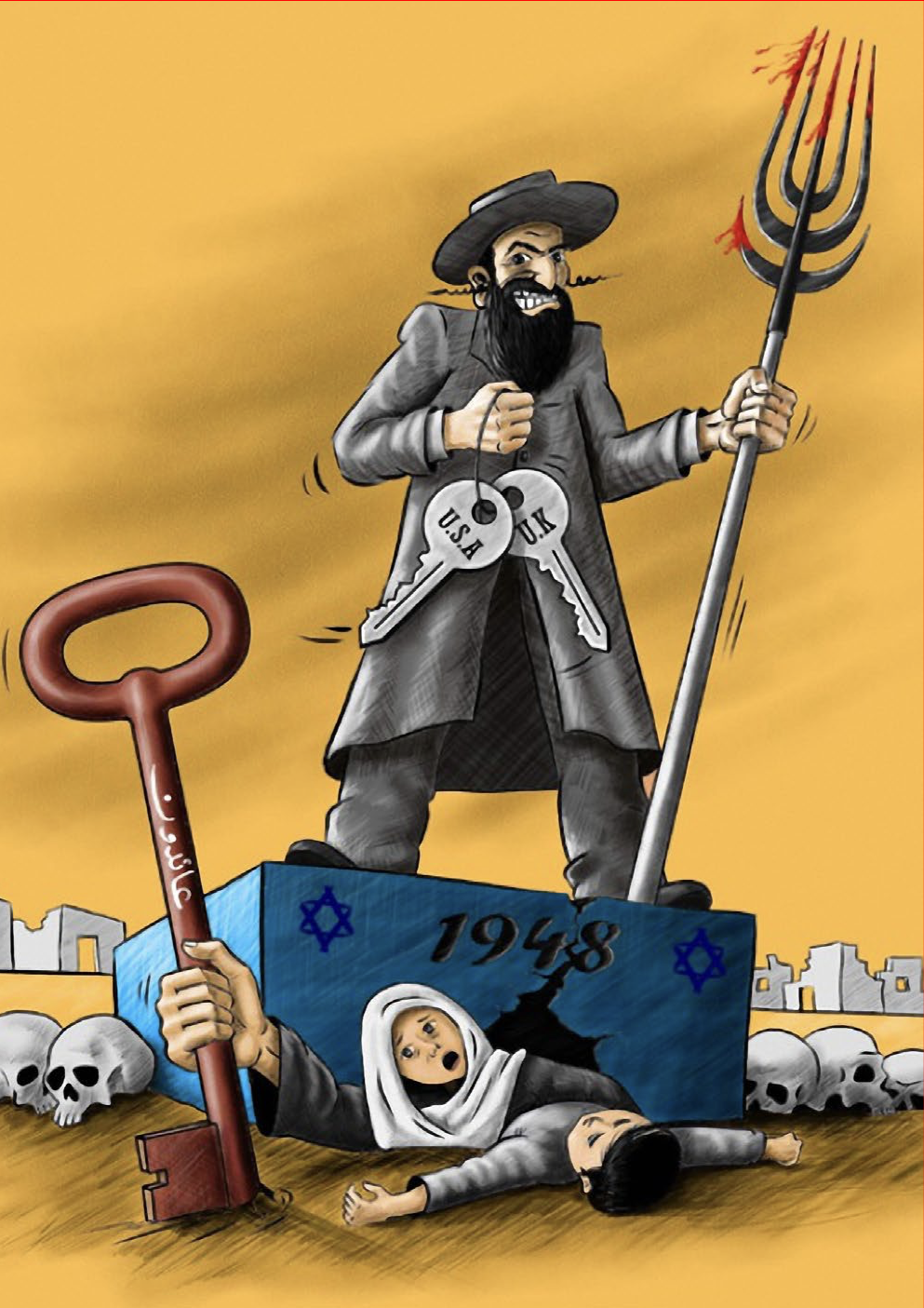 Behind the Mask groups its BDS exhibits into three topical chapters—Classic Antisemitism, Holocaust Inversion, and Denying the Jewish Right to Self-Determination. The analysis is clear, straightforward, and consistently helpful. But it is really the examples themselves that are most telling. As someone who has studied anti-Zionist and antisemitic tweets and cartoons for some years, I would add that it is clear they are becoming more virulent.
They are also increasingly intrusive and aggressive. And they seem very personal when they arrive in your email or your Facebook account. 'kill ur local Zionist' does not feel like an abstraction. Were it a banner stretched across a darkened city street, I would choose another route. And I am not comfortable knowing that thousands of impressionable people are sending and receiving these messages. We know that mass murderers in Pittsburgh PA and Poway CA trafficked in such hate. That is the dark underbelly of the BDS movement disturbingly documented in Behind the Mask.
For some, there seems a giddy sense of triumph in composing or sharing antisemitic slogans, accusations, and commands with innumerable friends, allies, and strangers. In that sense, the slogans and cartoons are the same, interchangeable texts and images that collectively demonise Israel and any Jew who supports the Jewish state's right to exist. Equally interchangeable are the BDS leaders quoted in the report and their hapless camp followers, some very young, who sign on to the movement.
Behind the Mask is a wake up call and a warning. It indulges in no government propaganda. It simply gathers its open source evidence objectively in one place. Its categories are adopted from the IHRA (International Holocaust Remembrance Alliance) Working Definition of Antisemitism that has been endorsed by many countries. The report does not aim to defend Israel's policies. It doesn't need to. The tweets and cartoons it reproduces are not policy critiques. They are hate mail. They project the portrait of an evil Jewish state and urge its elimination.
Anyway, what would be the point of attacking the photo of a giant pig-shaped balloon branded with a Star of David that floated above a concert by former Pink Floyd band member Roger Waters? Or in criticising the Israeli flag images that replace the Star of David with a swastika? Or in objecting to the cartoon depicting a US congressman as a human piggy bank (with a slot in his back into which an arm adorned with a Star of David armband deposits a coin)?
The tweets and cartoons featured in Behind the Mask are partners to the supposedly more respectable BDS efforts to delegitimise Israel. They urge no policy changes. They offer no peace proposals. They recommend no political actions to promote change. Instead they deploy savage antisemitic tropes that have festered for centuries and empower them anew in the present day.
back